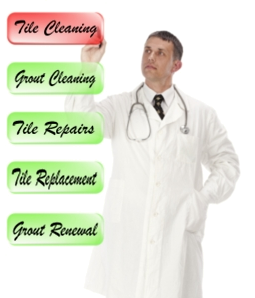 TILE AND GROUT SERVICES OVERVIEW
Tile and Grout Brisbane has a simple company motto, 'if you walk on it, we work with it'. As you can see by our services overview below, we will clean, repair, replace or rejuvenate your flooring tiles and grout, your wall tiles and grout and your shower tiles and grout.
From tile cleaning to damaged surface repair, and worn tile revival to levelling of uneven tiles, we are the experts when it comes to tiling services. You will also see that we have a varied and wide range of services for all other floor and wall surfaces.
For all projects, our services meet the high standards of the Australian Tile Council (see www.tilecouncilqld.com.au) and we are happy to provide a free consultation to discuss your needs and advise how we can help you with tile or grout repairs to maintain floors and walls.
We also promote and supply a range of green certified sealants just to provide the finishing touch.
Your tiles not only require regular cleaning, they also require maintenance to ensure they do not lift and become 'floating tiles. Once one lifts, the surrounding tiles will gradually lose their grip on the sub floor and in a very short space of time, you will have a serious problem on your hands. Read more…
Grouting offers it's own issues requiring anywhere from cleaning to colouring and crack repairs to replacement. Tile and Grout Brisbane grouting services include cost effective treatments to repair or regrout, reseal or recolour, rejuvenate or replace Read more…
Besides our tile and grout cleaning services we offer a range of associated services keeping in line with our motto of 'If you walk on it, we work with it'. We are a serious business with an extensive plant list which allows us to tackle any projects from residential to industrial. IE; we don't use toys Read more…
CLICK HERE to get a Quick Quote or CLICK HERE to send us a message
Restoring Tiled Floors & Walls across South East Queensland